We are a travel agency with Biosphere certification  specialized in unique and unforgettable tours and experiences. We create itineraries and guided tours based on sustainable, quality and responsible tourism.  With professional guides and rigorous expertise we offer an option of cultural, gastronomic, ecological and historical  tourism.
We create, operate and promote tours that let travelers experience the country from a local and authentic perspective through connecting them with our people.
We prefer "slow travel philosophy", by not rushing, it allows us to learn so much more about a country and its people and its culture. This, to us, is more rewarding travel. We feel this way we can get off the beaten track even in the most visited places. This results in new experiences and finding hidden gems.
We work with authentic small family companies that offer a more intimate and detailed view of their work. We want with you to inspire their personal growth and making them enjoy their work through our relationship.
Our licensed guides are completely in love with their work. We have carefully selected itineraries based on culture, art, gastronomy and fun. We would like to place our guest in a bright moment in our history to present days.
We take care of the preparation of your trip, and the possibility of contacting us at any time by phone during your stay in Barcelona. Furthermore, we also advise you on COVID-19 restrictions and will be available in case you need help (advice, health issues, etc.).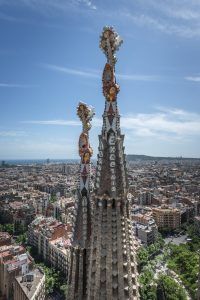 Our Philosophy
We support sustainable and responsible tourism. We are proud to be a member of the Barcelona + Sustainable and we are committed to the Barcelona Biosphere Tourism Sustainability Commitment.
"To do things right, first you need love, then technique."
Turisme de Catalunya Registry Number: GT-002703